Winning Elevates Green Shipping to New Heights — Winning International Group signs for building WinningMAX Ore Carriers with CSSC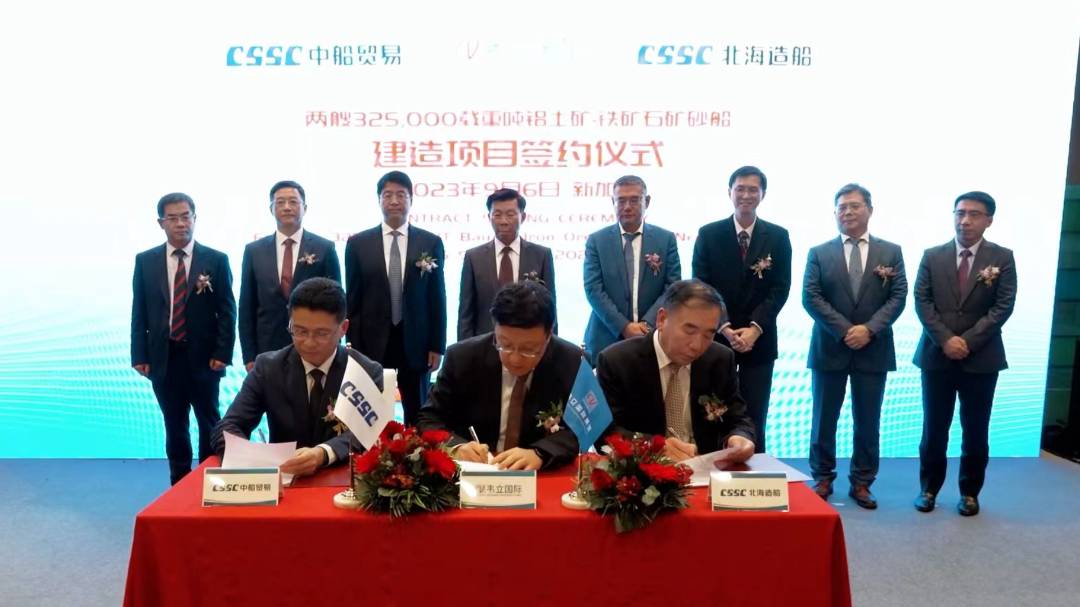 On 6 September 2023, a momentous signing ceremony took place in Singapore, marking the beginning of a new era in maritime innovation. Singapore's Winning International Group (WIG), in collaboration with China State Shipbuilding Corporation (CSSC) officially signed a contract for the building of two cutting-edge 325,000 DWT ore carriers.
Mr SUN Siyuan, the Executive Vice President of WIG, sealed the shipbuilding agreement with representatives from CSSC Qingdao Beihai Shipbuilding Company and China Shipbuilding Trading Corporation. Mr SUN Xiushun, Chairman of Winning International Group, Mr DU Gang, Director of CSSC, and Mr Yi Shyan LEE, Chairman of Business China (Singapore), graced the event with their presence and delivered inspiring speeches.
Sun Xiushun, Chairman of Winning International Group, delivering a speech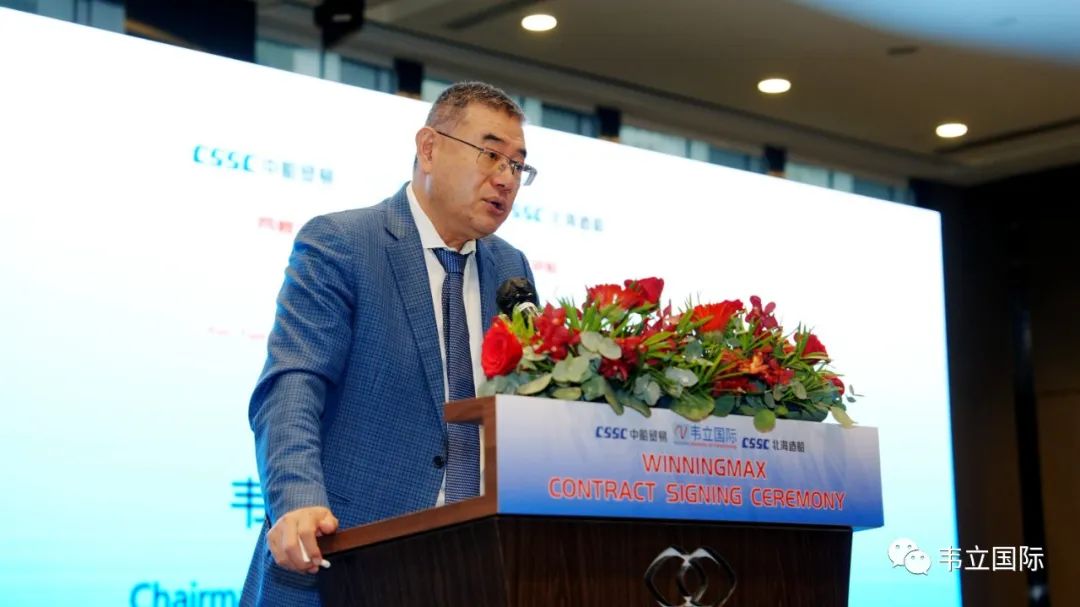 Mr. Li Yixian, Chairman of Singapore Business China, delivering a speech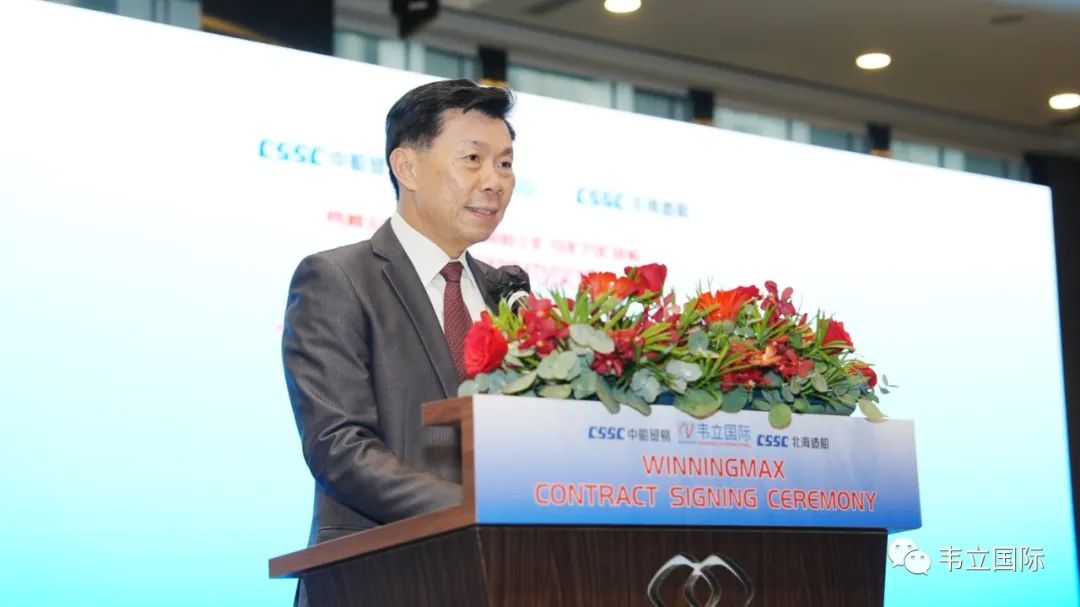 Du Gang, Director of China State Shipbuilding Corporation, delivering a speech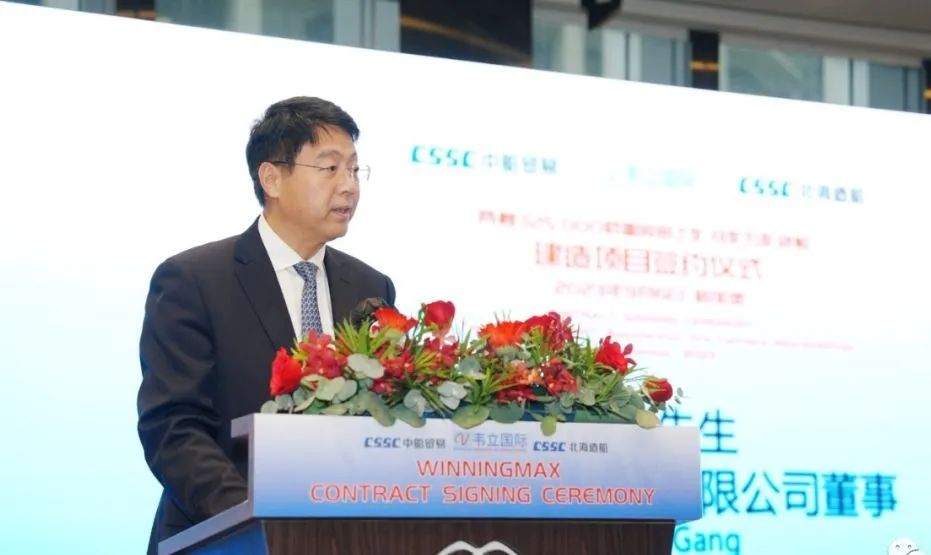 The two WinningMax vessels signed to build this time represent a new generation of ships that WIG has envisioned by itself in partnership with CSDC, a design company under CSSC Beihai Shipbuilding Company. These vessels are tailored to meet the demands of sustainable shipping and the specific needs of bauxite maritime trade, ensuring a seamless logistics chain from West Africa to China. They have received technical support and recognition from both the China Classification Society and Det Norske Veritas.

With an impressive overall length of 329.99 meters, a breadth of 60 meters, a depth of 30.50 meters, a structural draught of 22 meters, and a speed of 13.9 knots, these vessels comply with the stringent requirements of PhaseⅢ of the Ship Energy Efficiency Design Index (EEDI). Compared to Baltic Capesize vessels, the WinningMax carrier is projected to reduce energy consumption by nearly 50% per nautical mile per deadweight. Furthermore, these vessels are designed for future-ready green operation, equipped with 12,000 cubic meters of methanol fuel storage tanks, paving the way for zero-carbon voyages using green methanol.
During the signing ceremony, Mr Yi Shyan LEE emphasized: "Winning International Group is one of the best companies in Singapore's shipping and maritime ecosystem. With a long history of providing competitive logistics solutions to the world, WIG has made great strides in recent years. The signing of WinningMax carriers today is in line with Singapore's vision to go green in the shipping and maritime industry. We hope to see more shipping and maritime collaborations initiated in Singapore to contribute to the world's trade, investment and sustainable development."
Mr. Sun Xiushun shared his perspective: "Green shipping embodies Winning International Group's long-term commitment to sustainability. Today, we take a significant stride towards realizing our sustainable development goals, focused on emissions reduction and carbon footprint reduction in ocean shipping. I extend my heartfelt gratitude to CSSC and all our valued partners for their instrumental role in supporting WIG's pioneering work with  the birht of the WinningMAX vessel type. Our shared investment in energy efficiency and environmental protection not only benefits our ship-owning business and shipping operations but also enables us to offer safer, more cost-effective, and sustainable services for our mining development ventures in Guinea and our global shipping clientele."
About Winning International Group Singapore
Headquartered in Singapore, Winning International Group (WIG) is a multifaceted conglomerate encompassing ship ownership, shipping operations, marine transshipment, ship management, mining development, and railway construction and operation. Winning International Group boasts one of the largest bulk carrier fleets in Singapore and is presently the world's premier bauxite ocean carrier, primarily engaged in bauxite development in Guinea, with an annual mining capacity exceeding 50 million tonnes.
Simultaneously, the Winning Consortium Simandou, led by Winning International Group, holds the mining concession to Simandou Iron Ore Blocks 1 and 2 in Guinea, abundant in high-quality hematite ore, with a reserve exceeding 1.8 billion tonnes and an impressive grade of up to 65%. Winning International Group envisions constructing a fleet of super-large ore carriers for the ocean transportation of bauxite and iron ore in Guinea in the near future, furthering its ongoing commitment to greener fleets in pursuit of its core strategic objective—sustainable development."