Singapore shipping firm mines new value in Guinea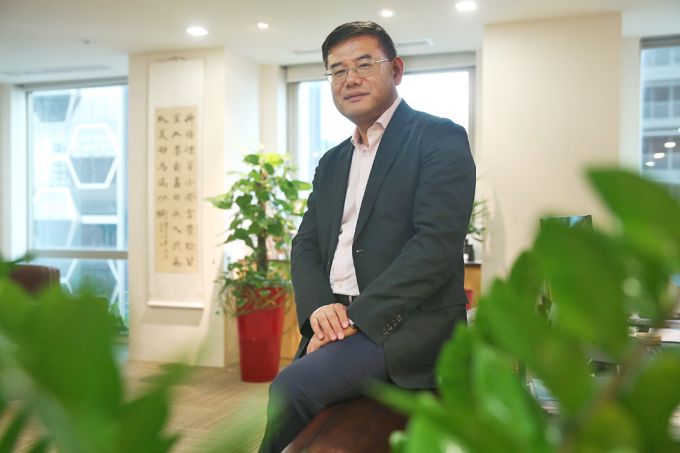 A LITTLE-KNOWN Singapore shipping firm has turned into one of the world's largest suppliers of bauxite, an ingredient used in making aluminium.
Having struck success in the West African nation of Guinea, Winning International Group now hopes to support other companies in venturing into that region.
The privately-held group had previously been involved in shipping bauxite from Indonesia, a key global supplier, to China. At its peak, the firm handled some 95 per cent of the rock ore being moved between both countries.
But the flurry of activities was stopped in its tracks in 2014, when Indonesia imposed a ban on unprocessed ore exports so as to spur the development of higher value smelting industries in the country.
"After Indonesia banned bauxite exports, our vessels had no cargoes," group president and founder Sun Xiushun told The Business Times in an interview held in Mandarin.
Having built up strong relationships with Chinese bauxite end-users, the firm saw that these partners faced a bleak future without new bauxite imports.
So it decided to venture into Guinea, which has one-third of the world's bauxite reserves, to invest in bauxite mining.
The motivation was two-fold, revealed Mr Sun, a Chinese national-turned-Singaporean who owns the firm with his wife. One was to meet its Chinese customers' demand for bauxite, and the other was the company's own survival and expansion.
Though new to the mining sector, Winning moved quickly. It conducted land survey and exploration work in end-2014, and started production in 2015 to reach about 870,000 tonnes by the end of the year. In the process, it also built a river barging port in 100 days.
Production target
The group's production surged to 12.6 million tonnes of bauxite last year, and it expects to reach some 30 million tonnes by the end of this year. Guinea's production of bauxite has correspondingly jumped nearly 10 million tonnes from 21 million tonnes in 2015 to 30.8 million tonnes in 2016, according to data from the World Bureau of Metal Statistics (WBMS).
Guinea has about one-third of the world's bauxite reserves, but its annual output has been less than 20 million tonnes for years prior to 2015 largely due to political instability.
Winning has a production target of 40 million tonnes by next year. For comparison, the largest suppliers of bauxite, Rio Tinto and Alcoa, produced 47.7 million tonnes and 45 million tonnes respectively in 2016, according to WBMS.
Winning, which has a headcount of 50 in Singapore alone and over 15,000 in Guinea for the mining operations, recorded revenue of US$292 million last year.
Mining is a relatively simple trade, said Mr Sun, particularly because Winning's mines are open-pit. In comparison, the process of moving bauxite ore from the port to the barge, and then to the ocean-plying capesize vessel, is much more challenging, he added.
Correspondingly, the group has plonked huge amounts of money – some US$350 million since 2015 – into the maritime logistics infrastructure at Guinea. Besides six floating cranes and floating coal terminals, it has 45 tugs, 34 barges and other infrastructure.
For the mining operations, the group, together with its joint venture (JV) partners – Weiqiao Pioneering Group and Yantai Port Group from China as well as UMS from Guinea – have jointly invested US$300 million. The group will continue to invest in Guinea over the next few years, said Mr Sun. Winning will, in late February next year, install a China-built floating dock that will be used as a shipyard.
It also plans to build an aluminium refinery in Guinea with the same JV partners, with a capacity of 500,000 tonnes in the first year. When completed in 2023, the refinery's products will probably be sold to Europe or Middle East, as the cost of shipping it to China is too expensive otherwise, said Mr Sun.
The self-made businessman had begun his shipping career as a crew member before working his way up to be an engineer, and eventually starting up his own company Winning Shipping in 2002.
Increasing China demand
He is bullish about future Chinese demand for bauxite, as more and more of its population buy cars and take trains and aeroplanes. At the same time, China, the largest producer of bauxite globally, will reduce domestic production as it tightens environmental regulations, he believes.
"In the next 10 years, China's demand for bauxite imports will increase," he said. In his view, the main risk the group will face is more price-competitive bauxite shipments from Australia, given the shorter distances these have to travel.
In order to control costs, Winning has started to buy its own ships. The group now has 32 capesize vessels, and also collaborates with large shipping lines.
As these vessels often return empty from China to Guinea, the group is now working to maximise its cargoes on the return journey by carrying products such as cement and steel – possible on the bulk cargo carrier ships because of the group's proprietary solutions.
Winning's diversification plans don't just stop here. It could enter into other mining ventures in neighbouring West African countries, or even township design and construction in Guinea, noted Mr Sun.
But ultimately, Mr Sun – who was made the honorary consul of Guinea in Singapore in end-2016 – hopes that the group can also be a bridge between both Guinea and Singapore. Singapore's trade with Guinea amounted to only S$64.5 million in last year, according to data from International Enterprise Singapore.
"We hope for more Singapore companies to understand Guinea, and to go to Africa," he added. "And as they develop these business opportunities, it will also help with Africa's economic development."(Business Times)