Transshipment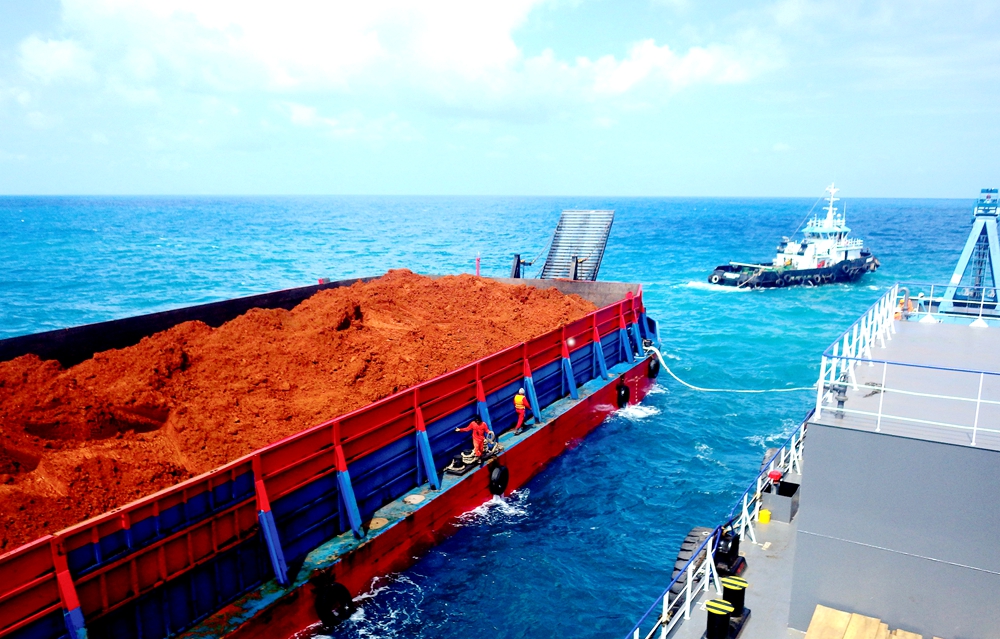 With the capacity to deliver more than 50 million DWT of dry bulk cargo per year, Winning Logistics has established itself as a leader in marine dry bulk cargo handling. It has also consolidated its reputation as a cost-competitive and reliable marine logistic solutions provider to customers worldwide.
Winning Logistics operates one of the worlds largest transshipment system, comprising floating cranes (FC), floating commodity terminals (FCT), tug, barge and support boats. Its systems were designed and constructed using in-house and cumulative know-how. The team is staffed with experts with decades of transshipment experience, supported by a pool of well-trained crew from Indonesia and other nations.
The company was started in South East Asia and currently has its head office in Singapore. A part of its Worldwide Business Road Map, it has made significant inroads into West Africa. Its shipyard, Winning Africa Shipyard and Engineering (WASE) operational since 2017, is the largest modern yard in West Africa. Besides guaranteeing sustainable and interruption-free operation for its fleets, the operation centre at West Africa has the potential to service the coastline of the whole of Africa and Latin America, as well as other areas currently still unreachable.
With its regular shipment of large dry bulk cargo from West Africa to China, Winning Logistics has founded a new Maritime Corridor linking West Africa and Asia.
Customised Solution
Our offshore transshipment platforms, the Floating Commodity Terminals (FCTs) are in operation since 2013. The effective loading rate is 4,000 tons per hour (for coal) and 3,000 tons per hour (for bauxite) with a 2m swell-operational stability. This design allows the FCTs to operate under adverse sea conditions. Its other functions include self-trimming, customized blending of cargo and sampling options, as well as a flow tube for wet goods.
The FCTs form a critical part of our earlier work in Indonesias first traditional floating loading system, effectively resolving our customers logistical bottlenecks in bauxite transportation. This has expanded our capability to reliably deliver bauxite in a more efficient and cost-effective manner. Since early 2017, the FCTs are deployed at Guinea, West Africa for bauxite loading. In the pipeline is an improved second-generation FCT which will boast new capabilities such as better maneuverability, storage and fast-scale blending.
Besides the FCTs, we have 4 sets of Floating Crane Barge (FC) deployed at Guinea, West Africa for bauxite loading since 2015. Meanwhile, we have finalized the design for four (4) new FCs to be built and delivered from late 2018 to 2019 to further improve our future loading capacity and efficiency.
Moving forward, we plan to expand our transshipment solutions (barge jetty-feeders-transshippers) in five areas:
Geographical: From Guinea, Africa to other parts of Africa or the world that are rich in natural resources but lack customized solutions. Four (4) additional tailor-made Floating Crane Barge are being built for sending to such area like Guinea, Ghana, Liberia and so on.
Material: From bauxite to other major bulk commodities including alumina, iron ore, coal, nickel ore and grain.
Value-added services: These include storage and blending, which will help ensure the smooth flow of the supply chain and minimize delays.
Transshipment alternatives: Tailor-made to project-specific operations and the regulation environment, such alternatives cover self-unloaders, pusher barges, offshore floating terminals, bulker converted transshippers, and others.
Logistics chain vertical integration: Stockpiling, processing and distribution centers.
FCT & FC
Winning Logistics, the marine logistics division of Winning International Group, had started coal and bauxite transshipment services since 2013.
Fully equipped with state-of-the-art facilities, Winning Logistics Floating Commodity Terminals (FCTs), named Winning Unity and Winning Power and Floating Crane Barges named Winning Giant, Winning Titan, Boke Winning Star and Winning Sunrise are the most efficient and reliable transshipment terminals operating in West Africa. They are currently all operating in Guinea, West Africa.
High-performance, Blending, Sampling, and more (FCT)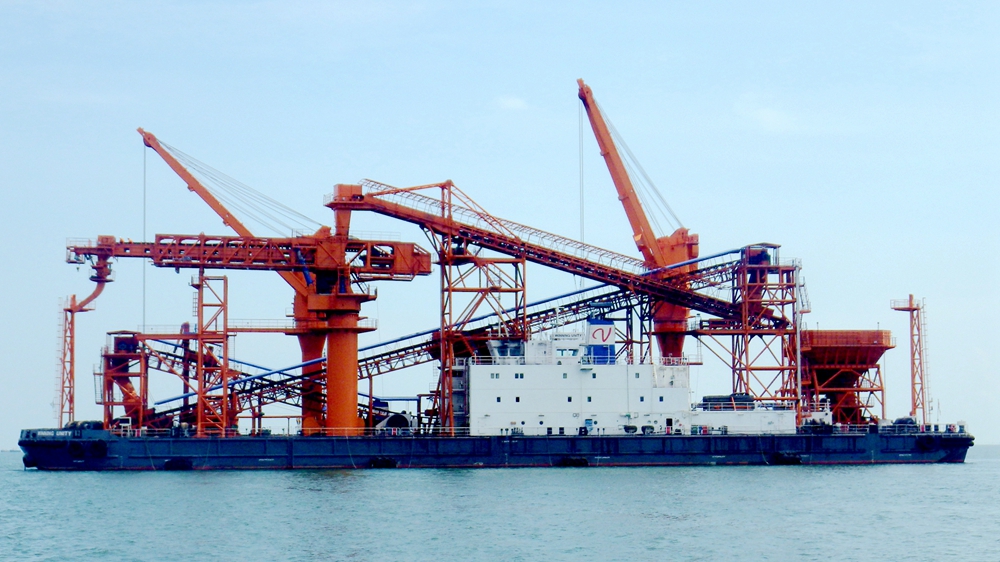 Featuring two Iknow 45-ton SWL cranes and a cargo specific conveyor system, each FCT is capable of loading vessels at rate of 40,000 tonnes per day per FCT or more for coal and 30,000 tonnes per day for bauxite. Highly stable, the FCT can load a Capesize vessel smoothly even with swells of up to two meters high. Each terminal is fitted with two sets of cranes with 35m3 grabs, a conveyor belt system and a loader with a 360-degree loading chute, allowing it to reach all corners of a ships hold. Its loading arm is equipped with a 180-degree swing which can be extended up to 37 meters, permitting it to span a Capesize ship with a breadth of 52 meters.
The FCTs are built to operate even in severe weather conditions. They are equipped with an enhanced fender system that helps keep risk to a minimum.
In addition, their fully integrated loading system is engineered to support quicker, more efficient loading cycles. The short crane cycles and reduced haul distance of the grab translate into reduced cargo spillage and pollution, and hence a more eco-friendly system.
With a loading rate of 4,000 tonnes per hour (for coal), the FCTs loading boom is fully capable of transferring a bulldozer to the main vessel for trimming, which can enhance the stowage factor of coal to 42 cubic feet per ton. The terminals conveyor belt systems come with metal removers, belt scales and sampling devices.
Optimizing loading times while ensuring safety, the FCTs each house two thrusters for accurate and effective maneuverability as well as a powerful tug boat.
In particular, the FCTs cranes that come with long reach which gives the FCT homogenous blending capabilities. Two side-by-side barges with different coal qualities can be unloaded simultaneously, and the adjustable hopper outlet allows customers to blend offshore without the need for double-handling. Both FCTs also carry automatic sampling equipment so that sellers know the precise type of coal being loaded and blended onto the vessel.
Imbued with state-of-the-art equipment and capabilities, each FCT is able to load bauxite into a Panamax vessel in less than 3 days and a Capesize vessel in about 5 days.
Floating Crane Barge (FC)
Four Floating Crane Barges (FC) capable of loading vessels at a rate of 1,500 tonnes per hour per FC with swells upto 2m height.
Each FC is fitted with one (1) 65 ton SWL Konecranes Gottwald Crane, Verstagen trimming grabs and wheel loaders (for trimming purpose) and built to operate continuously even under severe weather conditions all year round.
The floating cranes contribute to the continuing growth of Winnings bauxite handling activities off the coast of Guinea, Africa. They play a key role in the supply chain, transshipping bauxite from river barges to Capesize vessels on the open sea.
World-Class Environmental and Safety Systems
Reflecting Winning International Groups pedigree as a bulk operator for clients such as Weiqiao and Chalco, the FCTs and FCs have been designed with a strong emphasis on safety and environmental protection. Verstegen trimming grabs, over-sized hoppers with spill plates, covered conveyors and dust suppression systems work to minimize spillage and prevent cargo contamination.
Big Plans in Bauxite and other Ores Logistics
The launch of Winning Unity and Winning Power marked Winning International Groups formal entry into Indonesias coal logistics sector.
Winning Logistics has already commissioned a second generation transshipment vessel, and tailor-made transshipment system for bauxite and alumina. The Group is moving towards offering door-to-door logistics solutions and supporting our clients by providing optimal barging, transshipment and bulk shipping solutions.
In 2017, with two (2) sets of FCTs and four (4) sets of FCs, we loaded in excess of 32,000,000 mt of bauxite at Guinea, West Africa exceeding our target and expectation.
Wase Shipyard

Winnings shipyard in Africa, or WASE, is part of the Singapore Winning International Group. Registered in Guinea, the shipyard is located in the Port of Boke. It can accommodate vessels of up to 116m in length and up to 10,000 DWT. Services it can provide include general ship repairs, repairs to propeller shaft system, ship surface sandblasting, painting, gantry crane and machine repair.
WINNING DREAMDOCK is a newly constructed floating dock with full capabilities which include building and repair of floating cranes, tugboats, barges, fishing boats, and other seagoing vessels. It measures 116x43m and has a lifting capacity 5,000 tonnes. It is the first modern floating dock custom-made by Winning International Group for its projects in Africa. It will be delivered to Guinea on completion. As the first modern floating dock in the West African region, WINNING DREAMDOCK signals the regions capabilities in shipbuilding and ship repair.
The integrated workshop is fully equipped and has a fabrication yard with capabilities for steel works and propeller shaft system repair. The workshop has plasma cutting machines, hydraulic presses, hydraulic shearing machines, rolling machine, and steel fabrication equipment. It has 10 units of 1.25m length large-scale lathes, grinders, drills, elbow bending machines and other repair equipment. The workshop also carries out motor winding repair and chemical cleaning.